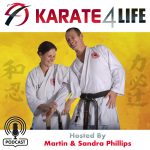 In the episode we going to wrap up our mini-series about ichi gan, ni soku, san tan, shi riki as we take a deeper look into the forth and final element riki: technique & power.
The forth element, is literally power, but is often referred to as technique. This alludes to the fact that real power is created from correct technique, rather than physical strength.
This final principle relies on the correct application of the preceding principles first, without proper use of eyes, legs & attitude, the opportunity to generate natural power through correct technique is lost.
...