Deb has been training for over 15 years as a student at Sunshine Coast Karate. She started her karate own karate journey at the age of 50, after watching her two children training for a few years. She successfully achieved the goal of earning her black belt before her 60th birthday in doing so proving that age is not a barrier.
Karate has become an important part of Deb's life since she started training and she continues to inspire students of all ages and happily shares her enthusiasm, wisdom and experience with everyone in the dojo.
Her children were two of the early senior students of Sunshine Coast Karate. Her son Rhys, was one of the first students on the Sunshine Coast to grade to the level of Shodan (black belt) and was also an assist instructor in the dojo for a number of years before moving out of the area. Her daughter Emma, graded to the level of 1st kyu and was also a wonderful leader and role model to other students in the dojo. Both Rhys & Emma also competed internationally a number of times and were a very big part of the early days of the dojo.
We could keep talking about all of them, but let's hear what Deb has to say about her karate journey so far.
Q – What encouraged you to get started on your karate journey?
A recognition that I needed to do something for my physical and mental wellbeing if I wanted to reach my goal of living to 100.
Q – In particular, what made you choose to get started at Sunshine Coast Karate?
My two children had been training at Sunshine Coast Karate for about five years. As an observer from the sidelines, I could see that Sensei Sandra and Sensei Martin were encouraging a positive culture, where values such as respect, focus, leadership, appreciation were gained alongside the health and wellbeing attributes that come from physical activity.
Q – Most people have some sort of perception about what karate is all about before they even get started. When you were first getting started, what did you think karate was all about?
As a parent of two karate students, I knew that Sunshine Coast Karate was developing a set of self defence skills in my kids that would make their journey through the challenges of school and peer pressure, a little easier. When I started karate, I was also beginning to see that karate had also given them a sense of purpose, a physical outlet for stress as well as energy, and a strong social network.
Q – How has this changed for you over the years that you have been training?
Not so much changed, but deepened and enhanced. I perceive karate now more as a philosophy or way of living, of developing self knowledge and a better me. The martial art techniques and self defence skills are the means by which I can measure where I am, physically and mentally, at a point in time.
Q – Please share a little bit about your background and life outside of the dojo.
I worked most of my life within the administrative arm of local government, primarily here on the Sunshine Coast, where my husband and I raised our family. On the whole I enjoyed my work, although it was often stressful and frustrating. I was lucky enough to have some personal development opportunities in addition to professional and career studies. Now Sam and I are retired and our adult children are successfully making their own way in the world…their time training with Sunshine Coast Karate in no small way a contributing factor to that successful transition to adulthood and managing the resultant responsibilities and obligations that come with it.
I am also passionate about multi-day hiking, carrying all the equipment, food and water to camp out in the bush overnight. And the more I do, the longer I want to enjoy the simplistic lifestyle of being away from civilisation and more in tune with nature.
I find karate and walking to be very complementary activities for my physical and mental wellbeing. The body control and balance developed at karate assists with keeping me upright when climbing a mountain, the peace and inspiration that comes from a magnificent view of the natural environment helps me achieve a mental centreing and focus for karate.
Q – What are the biggest changes you've seen in your life as a result of your karate since you started training?
Physically, I'm stronger, better balanced, fitter, more flexible, I'd like to say faster but I'm still working on that! A very visual change has occurred in my feet (very important for walking). When I started karate my toes were squashed together and I was unable to move them independently. Now there are natural gaps between all my toes. Independent movement is still a work in progress.
I am much more in tune with my physical body. I can isolate more muscle groups. I have better synchronicity in the two halves of my body. I breathe more efficiently and my posture has straightened.
The practice of karate is very powerful in relieving stress and creating balance and harmony in the mind. I love 6am training classes because they set you up for the day, shake out the worries and the self doubt and fill you up with a sense of purpose and appreciation.
Q – What would you say are the most important lessons you have learned in the dojo?
Eyes up, look ahead and build peripheral vision – this is absolutely true for all aspects of life, not just karate training. You have to see the goal, maintain a focus on that goal and be aware of what might come in from the blindside.
It's not about strength. Be grounded, hold your centre, control the body and release of energy. Also true for life.
Breathe well. Such a simple, automatic body response that we all do all day every day of our lives. But so little we credit its power to enhance our physical and mental abilities. And how little we understand about how to breathe well.
Keep practicing the basics, these are the foundations for everything.
Q – As one a long term student and a black belt member of the dojo, what would you say is the biggest thing that has kept you coming back over the years?
It's a family. The dojo is always safe, supportive and positive. No judgments, no criticism, just encouragement and appreciation. I always leave with more than I came with.
Q – Karate, much like life can very much be a journey of ups and downs; what advice would you give to other students who may be going through a low point in their journey?
When I hit a low point, I think it's time to reflect. Eyes up – is my goal still important to me.
Am I just hammering away at the issue without being grounded, centred, focused, controlling my energy. Go back to basics and do what you know the best you can, breathe and appreciate that you can do those things well. And most important, just keep turning up to training. With peace, perseverance and hard work you will reach your goal.
Q – Over the years, you have trained with a lot of other students in the dojo of all different ages and walks of life; are there any people or moments that really stand out to you?
My first karate camp, sitting in seiza for 30 minutes on a wooden floor and not being able to feel my legs and feet in order to stand up and then realising it wasn't just me!
Kids such as Senpai Sami and Senpai Selena, Sensei Klaudia and Sensei Bailey, growing up in front of my eyes, from wide eyed, somewhat nervous youngsters of 6 and 7 to be confident, courteous and positive role models for today's students, kids and adults alike.
Sensei Helen, who started at the same time as me, always an inspiration.
Personal coaching from Soke Sensei which enabled me to achieve a 1st place at the Nationals one year
Achieving my black belt at age 60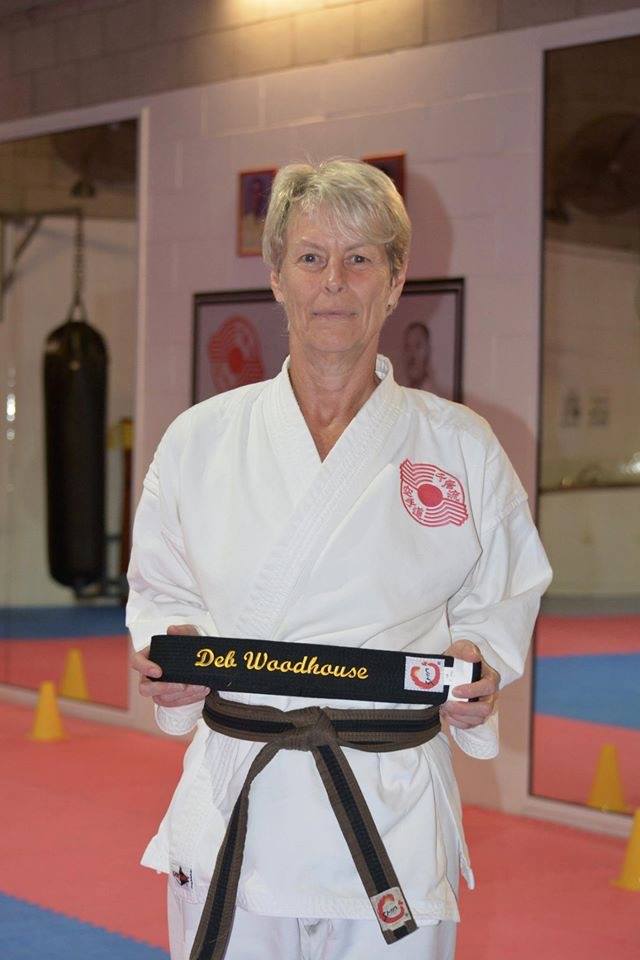 Tom Hurley, who just keeps turning up, because like me, karate has become an inherent part of his life
Sonya Wright who has embraced karate with a zest and passion that's infectious, not to mention the courage to continue training through and beyond injury.
All the regulars in the 6am classes
And many, many more
Q – Do you have anything else you would like to share about your karate journey so far?
None of the above would be possible without the very special dedication, commitment, passion, genuine desire and care to get the very best out of everyone while having fun, that is exemplified by our teachers, Sensei Sandra and Sensei Martin…. I am so lucky to have you in my life.